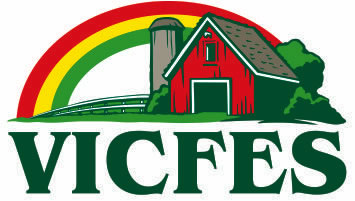 WHAT IS VICTORIA FARM ESTATE (VICFES)

Victoria Farm Estate(VICFES) is a farm estate settlement for Nigerians to engage in Agricultural services to provide qualitative and abundant food in the economy, providing value chain support and training services for entrepreneurial development and empowerment.
PHASE 1 is located at Ilashe Town along Owode-Idiroko Express Road in Ipokia Local Government of Ogun State, a 20 minutes drive from Winners chapel (Canaan Land).
WHY VICTORIA FARM ESTATE
The Nigerian economy has suffered a great set back with the dwindling fall in oil prices which is our major source of foreign revenue. The present government is shifting focus to Agriculture as a source of foreign reserve by providing all necessary support to ensure increase in food productivity across the country.
Victoria Farm Estate as an initiative of Dosaraf Multtibiz Koncep is focused on reviving the Agricultural sector through empowerment that cuts across training and extension services for Nigerians who are ready to tap into the Agricultural gold mine.
OPPORTUNITIES
Nigeria has over 80 million hectares of arable Land which accounts for about 23% of arable land across all of West Africa. Nigeria has a population of over 150million and a potential growth rate of 3.5% per annum with a projection to be the 3rd largest country by 205o. The Nigerian Agricultural sector is consisted of mostly subsistence farmers with few commercial farmers to meet the growing food demand of the country. Export of primary and secondary farm produce is gaining prominence in Nigeria as export trade transaction of farm produce increased in the past few years with crops such as groundnut, beans, shea butter, kola nut, palm oil, garri, cassava flour, cassava chips and pellets, cashew nuts, etc.
VISION
To be the foremost sought after Agricultural scheme in providing food security and eradicating poverty in Nigeria.
MISSION
To provide access to commercial Agricultural practices with access to advanced farm implements, bio-technology, training and other viable resources for maximum farm output and proving high tech Agricultural value chain.
 ESTATE OBJECTIVES
To encourage Nigerians to engage in Mechanised Agricultural Production.

To provide food security for the nation.

To raise Agri-preneurs that will provide fresh consumable farm produce at a good market price.

To empower and engage young Nigerians in Agriculture thereby reducing rate of unemployment.

To eradicate poverty and hunger.

To provide investment opportunities in Agriculture to Nigerians.

To explore the gold mine and untapped opportunities in Agriculture.

To ensure adequate production and supply of Agricultural raw materials to Agro-based industries.

To provide training, mentoring and extension services on Agriculture to Nigerians.

To provide Agricultural value chain for farm produce.

To reduce wastage of farm produce.
WHAT TO PRODUCE
Cereals;  Maize, Rice, Sorghum, Millet, Wheat.
Root crops; Cassava, Yam, Potato, Cocoa Yam, Ginger.
Legumes; Soya beans, Groundnuts, Cowpeas.
Vegetables; Water leaf, Bitter leaf, Ugu, Efo, Efirin, etc.
Tree crops; Oil palm, Sugar cane, etc.
Fruits; Plantain, Banana, Oranges, Pineapple, Water melon, Lettuce, Onions, Carrots.
Animal Husbandry such as Poultry (Broilers, Cockerel, Layers, Turkey, etc), Catfish, Sheep and Goat,  Pigs, Rabbit, Grasscuter, etc.
SUPPORT SERVICES
Tractor and Tractor mounted equipment such as plough, ridger, etc.

Fertilizers, Herbicides, Vaccines, Medication.

Training on plant and livestock management practices.

Marketing and sales of farm produce.

Value chain on farm produce.

Loan and financial management practices.
BENEFITS OF VICFES

Access to Agric Cooperative Society.

Access to Marketing Support.

Access to Individual and Group loan.

Access to Investment Farming Option.

Access to Training and Extension services.

Access to Agric Conferences, shows and Exhibition.
PROPOSED FEATURES / FACILITIES

Mechanized Farming

Irrigation System

Agro-processing factory

Standby 24/7 Electricity

Good Road Network

Global C of O

Residential farm estate

Hospital

Research and Training Centre

Recreation Centre
WHO CAN BENEFIT AT VICFES
Any individual male or female from the ages of 18years and above are entitled to take part in this Farm Estate Scheme, it is also open to foreign investors with valid residential permit.
HOW TO BENEFIT AT VICFES

Obtain a form for N3,000.

Fill the form and attach necessary documents.

Attach Two passport photograph and submit.

Make payment for your Land.

Participate in all estate activities.
HOW TO INVEST IN VICFES

Direct cultivation of crops and rearing of farm animals.

Contribution of funds to a pool of funds for cultivation and animal rearing purpose and sharing in the profit at the end of planting season.
PAYMENT OPTION
PHASE 1
OUTRIGHT PAYMENT
OPTION A
1 ACRE (6 PLOTS)                      = N500,000
OPTION B
½ ACRE (3 PLOTS)                      = N 300,000
OPTION C
1 PLOT                                      = N 100,000
INSTALLMENTAL PAYMENT
1 ACRE (6 PLOTS)
OPTION A
FIRST PAYMENT = N 250,000
SPREAD N250,000 BALANCE FOR 5 MONTHS i.e N50,000 x 5months = N250,000
TOTAL                   = N 500,000
OPTION B
PAY N30,000 MONTHLY FOR EIGHTEEN MONTHS (1 ½ YEARS) i.e N30,000 x 18months.
TOTAL          = N540,000
½ ACRE (3 PLOTS)
OPTION A
FIRST PAYMENT = N 150,000
SPREAD N 150,000 BALANCE FOR 5 MONTHS i.e N30,000 x 5months = N 150,000
OPTION B
PAY N20,000 MONTHLY FOR EIGHTEEN MONTHS (1 ½ YEARS) i.e N20,000 x 18months.
TOTAL: N360,000
1 PLOT
OPTION A
FIRST PAYMENT = N 50,000
SPREAD N 50,000 BALANCE FOR 5 MONTHS i.e N 10,000 x 5months = N 100,000
OPTION B
PAY N10,000 MONTHLY FOR TWELVE MONTHS (1 YEAR) i.e N10,000 x 12months.
TOTAL: N120,000
6 STEPS TO ENROL
To get started
1. Obtain an application form for N3,000 by paying into our designated bank accounts, you can as well do transfer, if you can't you can come with the money to our office and make payment before going for the visitation/inspection.
2. Scan your payment deposit slip to us or come to our office with it as evidence of payment.
3. Once your payment is confirmed you will receive the Application form in your email address or pick it up from our office.
4. Submit completed application form to our office or scan it to us via our email address.(dosarafmulttibiz@gmail.com, contact@dosaraf.com)
5. Visit the farm site for inspection
6. Start making payment for your land.
For more details call: 07086221295, 08093582213, 08034851495
FEES ANALYSIS
PHASE 1
Land application form                                    N3,000
1 Acre of Land (6 plots)                                  N500,000
½ Acre of Land (3 plots)                                 N300,000
1 Plot                                                           N100,000
OTHERS
Bulldozer clearing fee per Acre                        N51,000
Survey/Allocation fee per Acre                          N30,000
Documentation of Land agreement                  N30,000
Development Levy per Acre/year                      N30,000
CLICK TO READ OUR FREQUENTLY ASKED QUESTIONS FOR ANSWERS TO YOUR QUESTIONS.
CLICK TO SEE IMAGES OF ACTIVITIES ON THE FARM ESTATE.